South San Francisco Regular Hybrid (In-Person/Virtual) City Council Meeting
The City Council meets the second and fourth Wednesday of each month at 6:00 p.m. 
Municipal Services Building 
Council Chambers
33 Arroyo Dr.
South San Francisco, CA 94080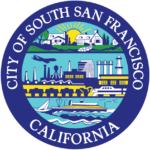 How to observe the Meeting (no public comment):
Local cable channel: Astound, Channel 26, Comcast, Channel 27, or AT&T, Channel 99
ZOOM LINK BELOW -NO REGISTRATION REQUIRED
Join Zoom meeting: https://ssf-net.zoom.us/j/83381598878 (Enter your email and name)
Webinar ID: 833 8159 8878
Join by Telephone: +1 669 900 6833
How to submit written Public Comment before the City Council Meeting:
Members of the public are encouraged to submit public comments in writing in advance of the meeting via the eComment tab by 4:00 p.m. on the meeting date. Use the eComment portal by clicking on the following link: https://ci-ssf-ca.granicusideas.com/meetings or by visiting the City Council meeting's agenda page. eComments are also directly sent to the iLegislate application used by City Council and staff.
How to provide Public Comment during the City Council Meeting:
COMMENTS ARE LIMITED TO THREE (3) MINUTES PER SPEAKER
By Zoom: When the Clerk calls for the item on which you wish to speak, click on "raise hand." Speakers will be notified shortly before they are called to speak.
By Phone: Enter the conference ID fund on the agenda. When the Clerk calls for the item on which you wish to speak, Click *9 to raise a hand to speak. Click *6 to unmute when called.
In Person: Complete a Digital Speaker Card located at the entrance to the Council Chamber's. Be sure to indicate the Agenda Item # you wish to address or the topic of your public comment. When your name is called, please come to the podium, state your name and address (optional) for the Minutes.
BUENAFLOR NICOLAS, Mayor (District 3)
MARK NAGALES, Vice Mayor (District 2)
MARK ADDIEGO, Councilmember (District 1)
JAMES COLEMAN, Councilmember (District 4)
EDDIE FLORES, Councilmember (District 5)
ROSA GOVEA ACOSTA, City Clerk
FRANK RISSO, City Treasurer
SHARON RANALS, Interim City Manager
SKY WOODRUFF, City Attorney
In accordance with California Government Code Section 54957.5, any writing or document that is a public record, relates to an open session agenda item, and is distributed less than 72 hours prior to a regular meeting will be made available for public inspection in the City Clerk's Office located at City Hall. If, however, the document or writing is not distributed until the regular meeting to which it relates, then the document or writing will be made available to the public at the location of the meeting, as listed on the agenda. The address of City Hall is 400 Grand Avenue, South San Francisco, California 94080.
Contact:
City Clerk's Office 
City Hall
400 Grand Ave.
South San Francisco, CA 94080
(650) 877-8518
33 Arroyo Drive
South San Francisco
,
California
94080
United States of America
(650) 877-8518